Digital Solutions for Media & Entertainment Industry
Media and Entertainment industry never had a dull moment, and after COVID-19, OTT platforms are reaching the new heights of success. Our Media and Entertainment development team understands the pulse of the modern audience and strives to create immersive, engaging, and seamless app solutions that cater to diverse interests and preferences.
We have a team of skilled developers, designers, marketing experts, project managers, delivery experts, and QA engineers to ensure your media & entertainment application is top-notch to compete in the market.
Whether you are a streaming platform or a content provider looking to captivate your audience, we are dedicated to transforming your visions into reality.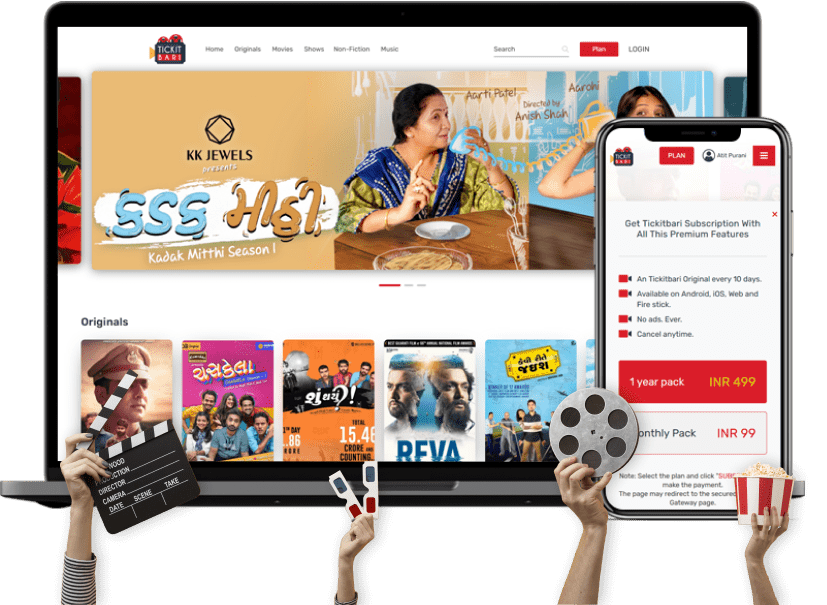 Benefits of having a digital solution for the Media & Entertainment Industry
Global Reach: Instantaneous distribution allows content to reach a worldwide audience.

Personalization: Tailored recommendations and content for individual users.

Cost Efficiency: Reduced production, distribution, and storage costs compared to physical media.

Real-time Analytics: Insights into viewer preferences for targeted content creation.

Interactive Content: Enhanced user engagement through interactive features

Convenience: On-demand access anytime, anywhere, on various devices

Data-driven Decisions: Informed business strategies based on viewer behavior data.
Innovative Formats: Exploration of VR, AR, and other cutting-edge technologies.

Monetization Options: Diverse revenue streams include subscriptions, ads, and merchandise.

Faster Production: Streamlined workflows and collaboration tools accelerate production.

Environmental Impact: Reduced carbon footprint by minimizing physical media production.

Global Collaborations: Easier cross-border collaborations among creators and teams.

Audience Engagement: Direct interaction with fans through social media and online platforms.

Content Preservation: Digital archiving ensures long-term content preservation.
Types of Apps for Media & Entertainment Industry
Tech we work with
Android

iOS

Flutter

React Native
HTML

CSS

Bootstrap

JavaScript

React

Angular
.NET

PHP

Laravel

Codeigniter

Node.js

Yii

NestJS
WordPress

WooCommerce
MySQL

MongoDB

PostgreSQL

Microsoft SQL Server

Firebase
Amazon Web Services

Google Cloud

DigitalOcean

Microsoft Azure
Figma

Sketch

Adobe XD

Adobe Illustrator

Adobe Photoshop

InVision Studio

Analysis

Design

Developement

Test
Our work in Media & Entertainment Sector
Why choose Seven Square
Here are some reasons to choose us
Collaboration
Got a project?
Let's talk.
We're a team of creative tech-enthus who are always ready to help businesses to unlock their digital potential. Contact us for more information.